Event details
February 21, 2018
6:00 pm
Shabby Motley Handcraft - 356 Queen Street East
Join us for coffee and great conversation!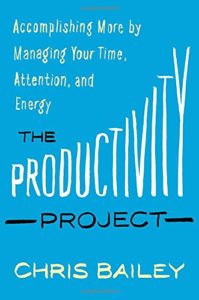 February's book choice is: The Productivity Project: Accomplishing More by Managing Your Time, Attention, and Energy by Chris Bailey
The Productivity Project—and the lessons Chris learned—are the result of that year-long journey. Among the counterintuitive insights Chris Bailey will teach you:
– slowing down to work more deliberately;
– shrinking or eliminating the unimportant;
– the rule of three;
– striving for imperfection;
– scheduling less time for important tasks;
– the 20 second rule to distract yourself from the inevitable distractions;
and the concept of productive procrastination.
In an eye-opening and thoroughly engaging read, Bailey offers a treasure trove of insights and over 25 best practices that will help you accomplish more.
As always, it is not necessary to read the book — just come for the conversation. Highlights of the book and how the readers can relate will be discussed. The more attendees, the better the discussion!